Everyone is talking about the climate crisis and how we all need to change our habits to combat its effects.
As a learner driver, it can feel like you're doing the exact opposite by driving a car. For instance, research has already shown that failing your driving test is officially bad for the planet, never mind your self-esteem.
So is there anything learners can do to help reduce their carbon footprint? Here are four ways to help the planet, ergo yourself:
1. Better eco-driving
Mark sure you're getting the basics right:
A tyre-ing issue
Yes, under inflated tyres are already dangerous but they also cause drag, meaning you use more petrol.
Don't idle
Sitting in traffic eats through fuel so avoid if at all possible – see 'Take a green(er) route' below.
Drive just below the limit
For the most part, the lower the speed you travel, the less emissions your car produces.
Switch off electrics
Only use the electrics you need, i.e., do you really need that fuel-sapping air con on?
Unload your boot
Remove any unneeded weight from your car – such as storing stuff in the boot and forgetting about it –  as the more weight you carry, the more fuel you burn through.
2. Go electric
Combustion engine-driven petrol and diesel cars are officially going the way of the dinosaur as they are being banned from sale in 2030. They will be predominantly replaced by pricier electric vehicles (EV).
While serious questions are being asked about the nation's charging network as well as where precisely the leccy needed to power a EV will come from, the simple fact remains: When you're driving your EV, you are not producing any emissions.
As EVs increase in popularity – the Tesla Model 3 was the UK's best selling car in September for instance – the current high prices for an EV will fall. Research also shows that you lot also want to buy EVs.
For instance, a survey by RED Driving School, Michelin and KwikFit revealed that 90% of young drivers expect to own an EV within 10 years.
Meanwhile, 78% of learner drivers would consider paying over the odds for an EV because they like them so much.
And, according to a new Peugeot survey, four-in-ten parents would rather their learner driver offspring got an EV too.
3. Take a green(er) route
When we use our sat nav apps – handsfree of course – we typically look for the route that will get us to our destination as quickly as possible.
Enter Google Maps that offers you that quickest route functionality – but is now also rolling out a feature that makes your journey more eco-friendly.
The app uses algorithms to determine the best 'green' route based on fuel-guzzling factors such as traffic and road inclines.
It means whenever you head out for private practise – perhaps driving to the shops or visiting family or friends further away – you can at least reduce your impact on the environment.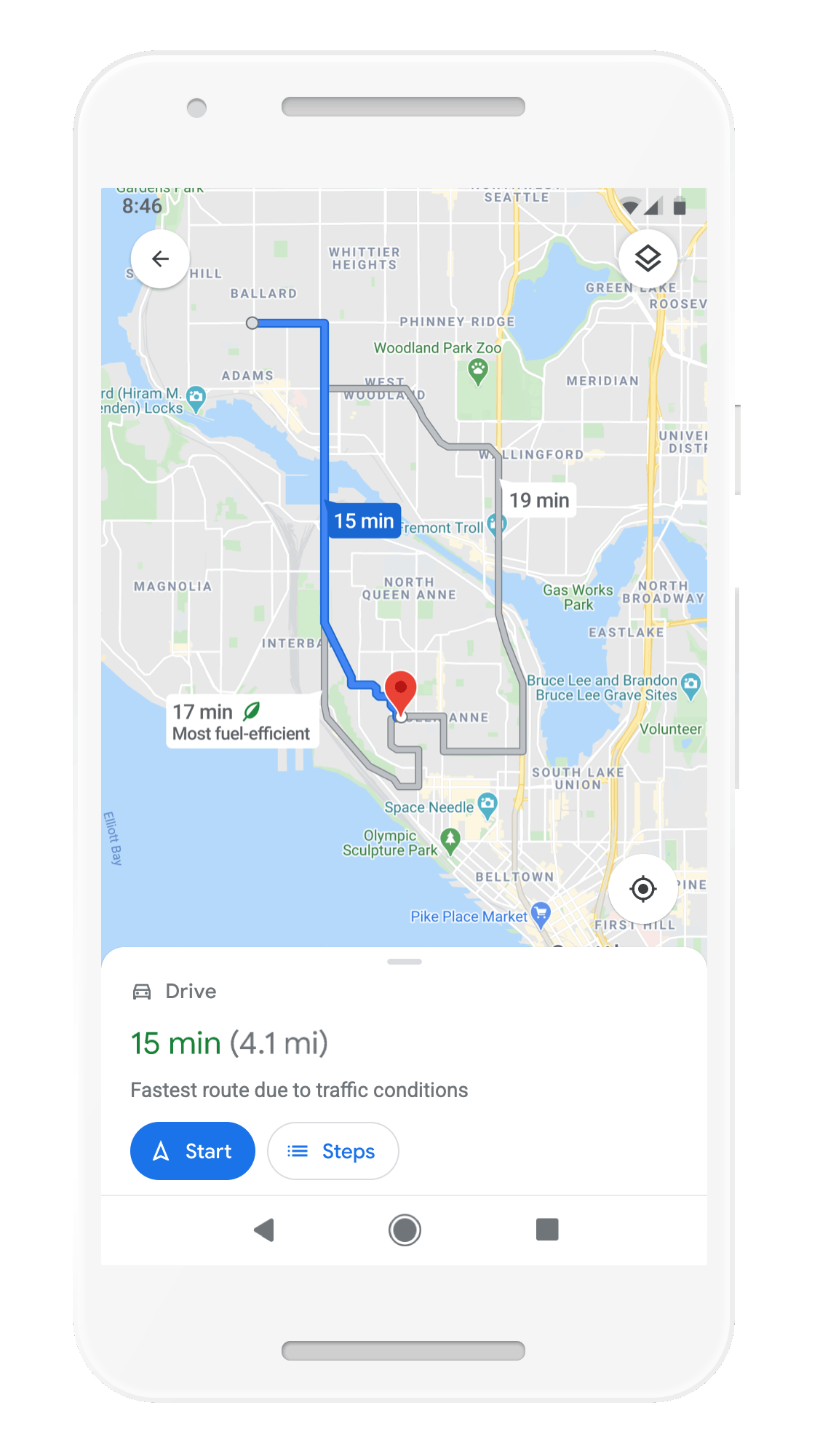 Google says the new feature could cut over one million tons of carbon emissions each year. That's the equivalent of taking 200,000 cars off the road.
Available on Android and iOS, the new navigation feature is already being rolled out in the States with Europe to follow in 2022.
4. Be sure you're ready
The amount of UK learners failing their driving test is producing almost two million kilograms of carbon dioxide per year.
It's one of the reasons why we recommend that you never rush to book a driving test. It takes time to learn how to drive safely and confidently. If you need a steer on when you should book your test, ask the person who knows best – your driving instructor.
Get the timing right and you stand a far better chance of passing your test first time – and not creating more emissions because of a retest.
Ace Your Theory Test
Double your chances of theory test success with Theory Test Pro. Sign up for free here.