If you're sitting your theory test from April 14, you will now view a video with three multiple choice questions.
During the multiple-choice part of the test, you are asked to read a case study and then answer five questions about it.
From April 14th 2020 though, this will be changed. Instead, you will now watch a video clip and be required to answer three questions about it.
This change is being made to the theory test in England, Scotland, Wales and Northern Ireland.
The new video clip-based questions are being introduced to make the test more accessible for everyone especially those with a reading difficulty (like dyslexia), learning disability or developmental condition (like autism). Check out a sample of the all-new video clips here:
What to expect in the new theory test 2020
Here's a breakdown of the all-new theory test element:
You watch a short, silent video clip that depicts a typical driving situation such as driving through a town centre or on a country road.
You are presented with three multiple-choice questions about the video clip. For example:
"Why are motorcyclists considered vulnerable road users?"
"Why should the driver, on the side road, look out for motorcyclists at junctions?"
"Who can cross the chevrons to overtake other vehicles, when it's safe to do so?"
You will be offered four possible answers to choose from.
You can view the video clip as many times as you like during the multiple-choice part of the theory test.
How to use the new video clip interface in the theory test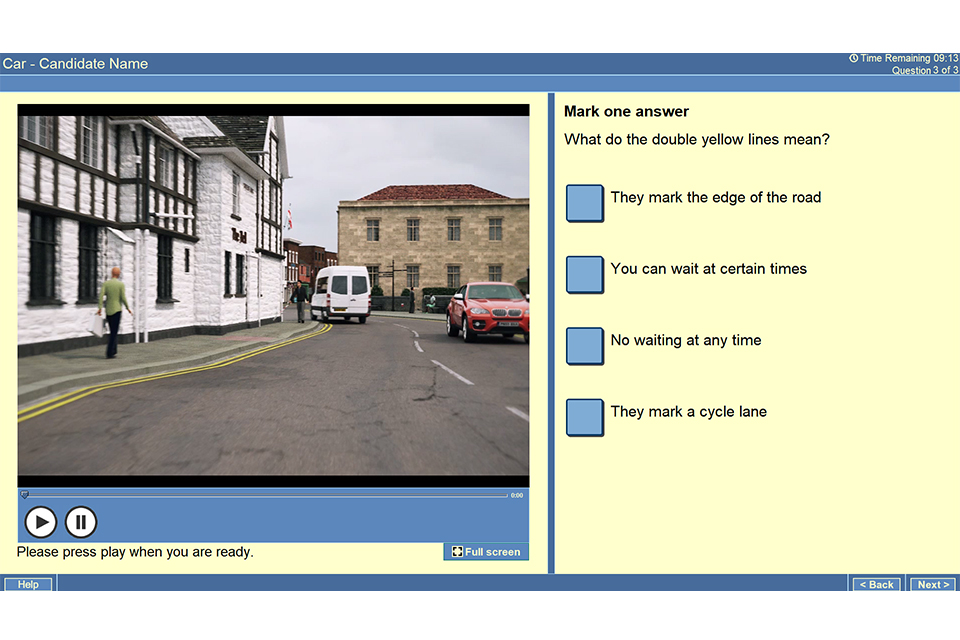 Note the play/pause controls in the bottom left of the screen plus the bar below the video that lets you move through the clip to any point you choose (like YouTube).
You can also expand the video clip into full screen using the tab found in the bottom middle of the screen.
You view/answer the questions on the righthand side of the screen.
Practise the all-new video clips with Theory Test Pro
We will be including the new video clips process in Theory Test Pro so you can practise as much as you like before taking your official theory test. The new feature will be included before or on April 14, 2020. To sign up to Theory Test Pro for free, click here.