New technology is being introduced to catch out drivers who love to rev their engines and fit loud aftermarket exhausts.
Beware motorists and motorcyclists as a new kind of camera is set to be trialled in the UK that detects drivers who cause unnecessary noise pollution.
The types of drivers most likely to be targeted are 'boy racers' who rev their engines; drivers whose engines or exhausts are damaged; and motorcyclists who remove the silencers from their rides to increase the noise their bikes make.
Hoping to curb excessive vehicle noise in quiet residential areas, the new detectors are being fitted to existing Automatic Number Plate Recognition cameras; if excessive noise is detected, it will take a snap of the offending car with a fine automatically dispatched to the vehicle owner.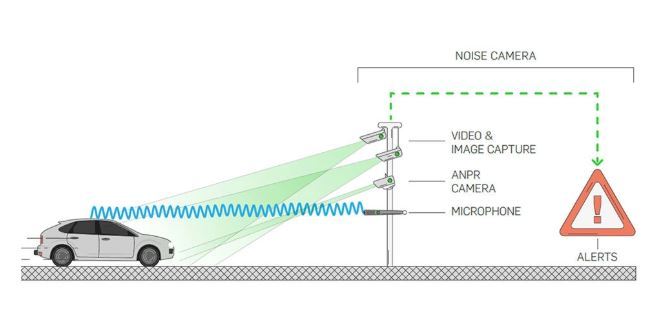 And perhaps it's about time such measures were taken as official government guidance already states, "once a vehicle is in service, exhausts and silencers must by law be maintained in good working order and not altered to increase noise."
The government is all set to trial the technology later this year at several different sites and if they prove successful, you can expect the technology to be rolled out across the country.
While the noise cameras might sound like the stuff of science fiction, the tech is already in use across several countries including Australia, Canada, Singapore and the United Arab Emirates.
What is the law? While the legal noise limit is 74 decibels in Europe, anything over 90 decibels is when police will brand the noise level as a 'nuisance'.
Specific laws surrounding excessive vehicle noise pollution include:
• The Road Vehicles (Construction and Use) Regulations 1986 where drivers can be given on the spot fines by the police if they have custom exhausts or engines that produce too much noise.
• Section 59 of the Police Reform Act 2002 where police can stop your car – and even seize it – if you are causing annoyance, alarm or distress to the public.
• For instance, if police believe your car stereo is being played too loudly, they will ask you turn down the volume; if you refuse, they are able to seize your car.
• If you are listening to loud music on the move, there is far less chance of being stopped because you're not resting in one spot.
• However, if police believe you are being distracted by your music while driving, they can do you for careless driving, fine you £100 and slap three points on your licence.
Noise pollution makes the lives of people in communities across Britain an absolute misery and has very serious health impacts. This is why I am determined to crack down on the nuisance drivers who blight our streets. New technology will help us lead the way in making our towns and cities quieter, and I look forward to seeing how these exciting new cameras could work." – Transport Secretary Chris Grayling.