Based in Luton, driving instructor Chris Jones has built up a successful business despite tough competition from over 200 other driving schools based in the area.
On qualifying in 2016, ADI Chris Jones decided not to take the traditional route and sign up with a national driving school.
Instead, Chris struck out by himself, founding CTJ Driver Training, determined to create a driving school able to adapt its teaching methods to suit the pupils' needs – whether a member of public, a fleet driver or a trainee driving instructor.
How did you end up becoming a driving instructor?
I was in the Royal Navy for nearly 12 years, working as an engineer. I left because I was missing out on my three children growing up and wanted to find a career that was more suited to family life.
I actually went on to retrain as a primary school teacher but, although I enjoyed the teaching itself, I didn't enjoy the day-to-day politics and the long hours – sometimes 90 a week – for not a lot of money. I decided to go into instructing after an ADI friend of mine offered to train me up.
What's the appeal of the job?
For me, it's about being in control of your own destiny because you are working for yourself – plus you can spend more time with the family! I also like the variety the job offers as I've branched out into other avenues such as ADI and fleet training.

Tell us about your driving school and its development.
It was very tough getting clients at first but after advertising my services successfully, most of my work now comes from word of mouth. I get a lot of repeat business from students I've taught in the past – their brothers, sisters, friends – anyone they might know who wants driving lessons.
Such recommendations are great as it's very competitive in the Luton area – there are over 200 driving schools! And while we're not cheap, we still offer real value for money compared to national driving schools because we tailor our services to each and every student.
I balance structured learning with the needs of each student. It means there is, of course, a structure to each lesson but having worked in teaching plus attained a psychology degree, I can analyse each pupil's needs and adopt my approach to suit them." – ADI Chris Jones on his teaching style.
What's the best part of your job?
It's got to be students passing their test. I also love the fleet work – helping drivers who have been driving for 20-30 years to be as safe as they can be behind the wheel.
I also enjoy helping students who may have learning difficulties. One student with dyslexia had been treated badly during their lessons because their ADI didn't understand them or their learning needs. It got to a point that the lad actually gave up driving for the best part of a year.
I was contacted by the student's parents who wanted an assessment lesson done with their son. They even wanted to come along because they were so taken aback by the way their child had been treated in the past.
After the assessment, the pupil and his parents were very pleased so they signed up. I started working with the student, putting him at ease and developed a learning journey that was tailored to his needs.
This student went on to pass his practical test first time and not only that – he managed it with zero driving faults as well! When someone feels they've tried everything and will never pass, it's very satisfying and rewarding when they go on to nail the test.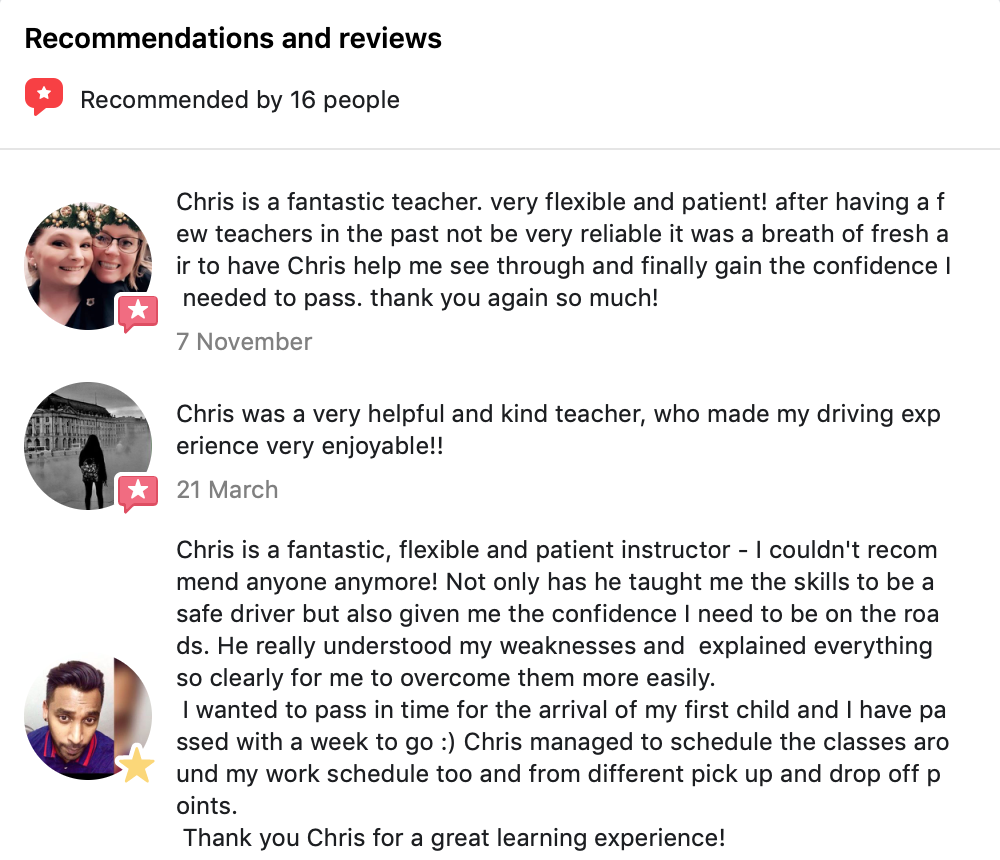 What is the least favourite part of your job?
It's taking care of the business side of things. I like to stay on top of it all because I like to know how I am performing through out the year – but it's sometimes really hard when you are busy with pupils to take time out to do things like paperwork but you have to find the time.
Finally, how does Theory Test Pro help your students?
Actually, it helped me when I was studying for my ADI Part One! I know my students also find it very helpful – they like the fact that they and I can keep track of their progress.
Also, if I notice a student is struggling in a particular area, I can message them through Theory Test Pro and they can message me back. Students like it because it means there is always someone there on hand to help out.
I found the service to be much better than any of the others available as well – and a lot of my students have passed their theory test quicker by using Theory Test Pro than by any other means.