Now in its sixth year, the Big Learner Relay continues to grow from strength to strength, raising over £400,00 for Children in Need (CIN) to date.
Supported by Theory Test Pro, the Big Learner Relay sees driving instructors and their pupils carry a CIN-branded top box from one driving lesson to the next across England, Northern Ireland, Scotland and Wales. This year's event covers a whopping 3,000 miles over 17 days with a 190 lessons.
While the relay has already visited Jersey and will touch down in Northern Ireland on the 29th October, it kicks off aproper on the 1st November with the epic relay visiting a mass of locations from Land's End and Bristol through to Inverness and Swansea with driving instructors assigned for each of the 190 legs.
This year's event ends on Children in Need night on November 15th with a trip to the moon! Well, the National Space Centre in Leicester, marking the 50th anniversary of the moon landing as well as celebrating the end of the Big Learner Relay with a slap-up three-course dinner.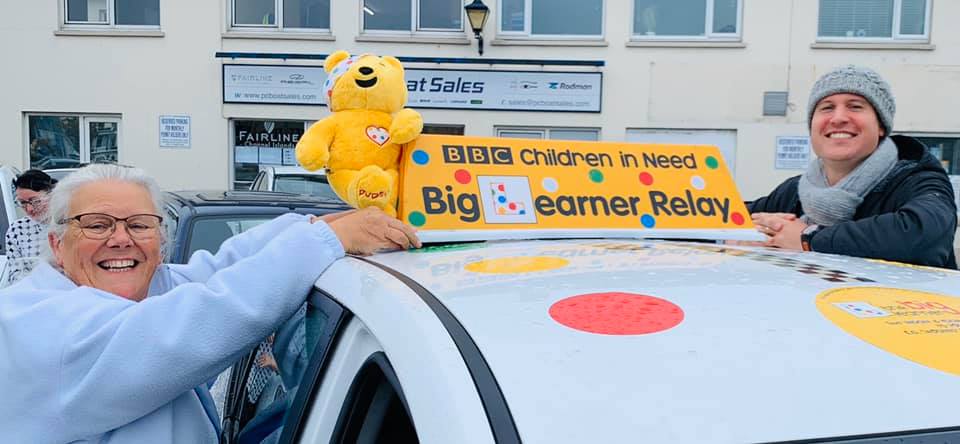 Driven by diversity
The brainchild of ADI Louise Walsh, the Big Learner Relay has been hugely successful since it started back in 2014, bringing together a diverse range of instructors (and their pupils) from across the country including:
• independent schools • franchises (both national and local) • instructor trainers • instructors teaching in diesel, petrol and electric cars • instructors who specialise in teaching people with disabilities.
How you can get involved

While the route itself has now been finalised and lead instructors for each leg of the relay assigned (other than a handful of locations – check them out here and sign up!), instructors and their pupils can still get involved. For example:
• View the Big Learner Relay official route, which features the assembly points for each of the 190 legs with dates and times. You can head along with your pupils and join the relay for that leg of the route – or as many as you like! Because of traffic and weather, do check for time updates on the official page or Facebook.
• Plaster your car with Big Relay spots! You can buy packs of spots from here (each includes two official Pudsey logos, the official mascot of CIN) and get a spot sponsored to raise money for the charity. Instructors have managed to get spots sponsored by all manner of folk – from friends and family through to football teams and MPs.
• Can't make the relay itself? Don't worry, you can still fundraise by holding your own event. Instructors up and down the country have come up with some brilliant fundraising ideas including fancy dress lessons, sponsored lessons and PJs for Pudsey. Whatever event you create, don't forget to let the Big Learner Relay know about it via its official Facebook page here – and do let your local press know too to help spread the word.
• If you don't have time to organise your own event, fret not as you can make direct donations quickly and simply here.