The Government has announced that all driving licences will soon be made available in a digital format with provisional licences being the first to make the leap. According to Transport Secretary Grant Shapps, the move will make transport 'fairer, greener and more efficient'.
Learners will act as guinea pigs for this all-new system with a trial starting early next year that will see provisional licences made available in electronic form.
App driven
The digital version of a provisional licence will be viewable via a dedicated app or more smartly, as some hope, through your phone's existing wallet feature or equivalent (think WhatsApp); these already store all manner of official digital documentation including flight boarding passes, concert tickets, and more.
Responsible for 49 million driving licences already, the Driver and Vehicle Licensing Agency (DVLA) says as well as introducing the digital driving licence, it will also start building a customer account facility.
"This will ultimately give our customers personalised, easy and secure access to a range of services and allow them more choice in how they transact with us."
We reckon it will also make life much easier for the DVLA if it can stop worrying about paper/plastic versions of the licence by focusing on going predominantly digital.
Positive reactions, some concerns
The move has broadly been welcomed by the industry with the RAC Foundation stating, "these days the one thing drivers are most likely to have with them is their phone, so using it to carry their driver's licence could be quite handy."
However, the organisation does have concerns that the more personal data we store on our phones, the more likely our data-rich phones become a target for thieves and hackers.
Others also worry that those without smartphones could be penalised. However, the DVLA says that paper and plastic documents will not vanish overnight.
"Our intention is to build services that are digital by desire – with digital services that are so good that people will choose to use them, making their transactions faster, simpler and with a lower carbon footprint. However, we will not be an exclusively digital organisation and will ensure we continue to operate as a multi-channel organisation, so that those who cannot go online can still transact with us in other ways."

• Driver and Vehicle Licensing Agency
Back to the future
Introducing digital driving licences has actually been touted before. For instance, the DVLA's Chief Exec Oliver Morley tweeted a prototype of a digital driving licence stored in Apple's Wallet app back in 2016.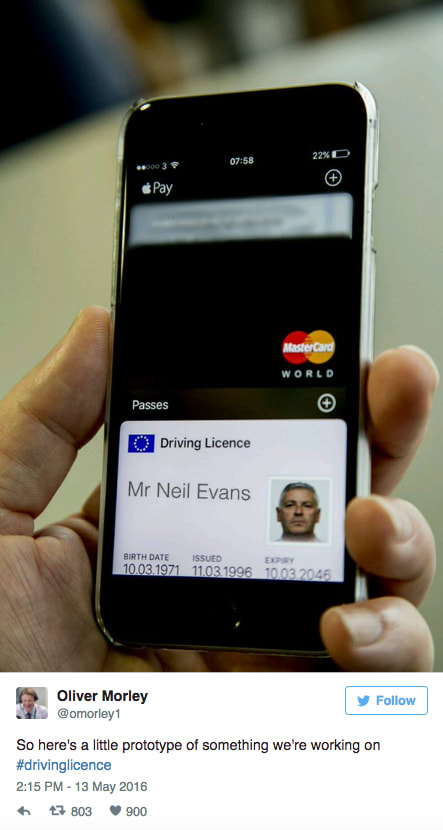 It's not me, it's EU
However, according to insiders, digital licence plans were shelved because of a European Union law that states a physical version of your driving licence should always be available. Now we've left the EU, we should now expect to see the move to digital driving licences begin properly in 2024.
Know Your Code
Double your chances of theory test success with Theory Test Pro. Sign up for free here.